by Katie Frederick, Environmental Health & Safety Specialist

Who Is Affected?
General Industry and construction workers who are exposed to respirable crystalline silica.

Types of possible affected industries and construction: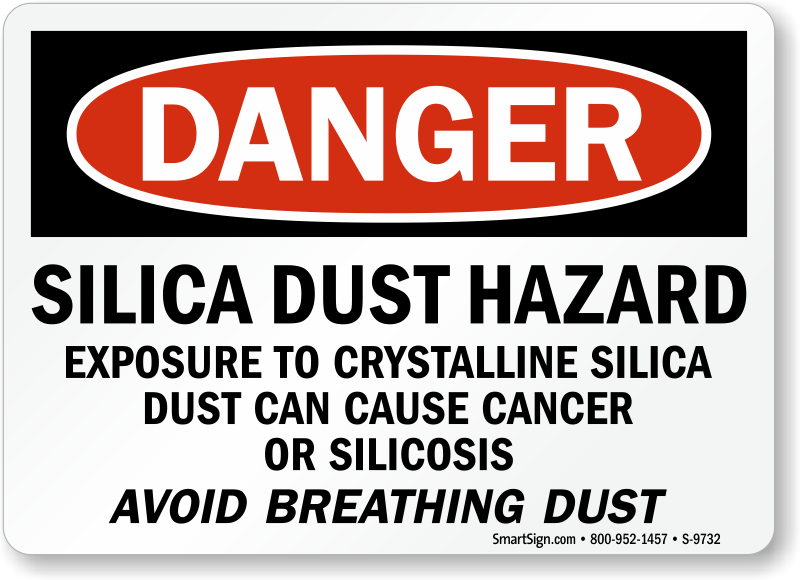 Asphalt Roofing Materials; Concrete Products; Cut Stone; Dental Laboratories; Foundries; Jewelry; Porcelain Enameling; Pottery; Railroads; Ready-Mix Concrete; Shipyards; Structural; Clay Products; handling of earth products; and specifically the grinding, cutting, conveying, sweeping, material transfer activities involving these materials; Support Activities for Oil and Gas Operations.

What is Crystalline Silica and How Does it Affect Workers?
Crystalline silica is a common mineral found in many naturally-occurring materials and used in many industrial products and at construction sites. Materials like sand, concrete, stone and mortar contain crystalline silica. Crystalline silica is also used to make products such as glass, pottery, ceramics, bricks, concrete and artificial stone. Industrial sand used in certain operations, such as foundry work or hydraulic factoring, is also a source of silica exposure.

Respirable crystalline silica is a very small particle, typically at least 100 times smaller than ordinary sand found on beaches or playgrounds. Respirable dust is less than ten micrograms in size and cannot be seen. This dust is taken deep into the lungs and can have long-term health effects. It is generated by high-energy operations like cutting, sawing, grinding, drilling and crushing stone, rock, concrete, brick, block and mortar; or when using industrial sand. Simply being near sand or other silica-containing materials is not hazardous. The hazard exists when specific activities create respirable dust that is released into the air. Activities such as abrasive blasting with sand; sawing brick or concrete; sanding or drilling into concrete walls; grinding mortar; manufacturing brick, concrete blocks, or ceramic products; and cutting or crushing stone generates respirable dust.

Why is this information important?
OSHA estimates that over 100,000 workers in general industry and maritime are exposed to silica levels that exceed the new permissible exposure limit (PEL) of 50 ug/m3 (micrograms per cubic meter of air). OSHA's previous PELs for silica were outdated, inconsistent and did not adequately protect worker health. The previous PELs were based on studies form the 1960s. The revised rule will reduce the risk of disease to America's workers by limiting their exposure to respirable crystalline silica. Inhaling very small ("respirable") crystalline silica particles, can cause multiple diseases, including silicosis, lung cancer and chronic obstructive pulmonary disease (COPD), and kidney disease.


When are these new standards to take effect?
Construction industry employers are required to comply with the standard by June 23, 2017. Industrial Employers are required to comply with the standard by June 23, 2018.

-Medical Surveillance must be offered to employees who will be exposed at or above the action level (25 ug/M3) for 30 or more days a year starting on June 23, 2020.

-Medical Surveillance must be offered to employees who will be exposed above the PEL (50 ug/M3) for 30 or more days a year starting June 23, 2018.

How does this affect your business and employees ?
The standard for general industry and construction requires employers to:
Measure the amount of silica that workers are exposed to if it may be at or above an action level of 25 ug/m3 averaged over an 8-hour day;
Protect workers from respirable crystalline silica exposures above the permissible exposure limit of 50 ug/m3 , averaged over an 8-hour day;
Limit workers access to areas where they could be exposed above the PEL;
Use dust controls to protect workers from silica exposures above the PEL;
Provide respirators to workers when dust controls cannot limit exposures to the PEL;
Restrict housekeeping practices that expose workers to silica where feasible alternatives are available;
Establish and implement a written exposure control plan that identifies tasks that involve exposure and methods used to protect workers;
Offer medical exams - including chest x-rays and lung function tests - every three years for workers exposed at or above the action level for 30 or more days per year;
Train workers on work operations that result in silica exposure and ways to limit exposure; and
Keep records of workers' silica exposure and medical exams.
For additional information on OSHA's silica rule, visit www.osha.gov/silica

Fehr Graham has a full staff of experienced safety trainers. For more information on how we can help, call 815.235.7643.